New Straits Times, 29 January 2014
ROLE MODEL: Panel's proposal to boost road, sea and air safety following spate of accidents
KUALA LUMPUR: A PROPOSAL to establish a National Transportation Safety Board has been recommended to boost road, sea and air safety in the country.
Acting Transport Minister Datuk Seri Hishammuddin Hussein said the proposal was made by the ministry's independent advisory panel following numerous serious accidents in all three areas.
The board, he said, would not only advise but report recommendations and provide improvements directly to the ministry.
"The panel's proposal will be forwarded for cabinet approval soon. Should the board become a reality, it will be historic in the sense that it will be one of a kind in the Asean region.
"It can also act as a role model especially in terms of enhancing road safety," he said after receiving the Genting Highlands bus crash report at the Defence Ministry, yesterday.
The report, compiled by the Malaysian Institute of Road Safety Research and the National Institute of Occupational Safety and Health, was handed over by panel chairman Tan Sri Lee Lam Thye to Hishammuddin, who is also Defence Minister. In the crash at Km3.6 of Jalan Genting Highlands-Kuala Lumpur on Aug 21 last year, 37 were killed while 16 others were injured.
Hishammuddin said once the board was established, other agencies like the police could also sit on the panel.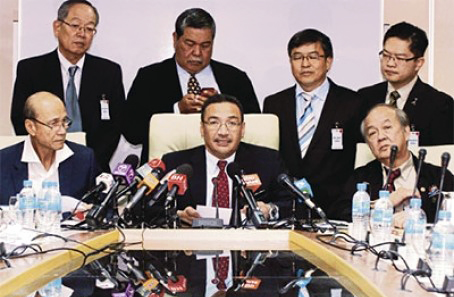 Datuk Seri Hishammudin Hussein at a press conference after receiving a report on the Genting Highlands bus crash. With him is Tan Sri Lee Lam Thye (seated left). Pic by Muhd Zaaba Zakeria